The Importance of Having a Qualified Reversing Banksman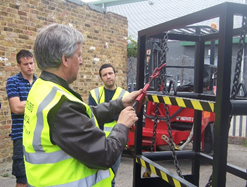 25th October 2019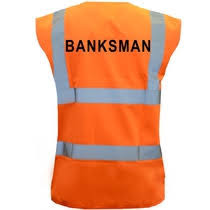 The role of a Reversing Banksman isn't always considered to be as important as it should. Often, it's a duty that is carried out as an additional task for someone working in another role who just happens to be in the vicinity as the driver arrives with his goods delivery vehicle. Many people don't appreciate the importance of a banksman's role and how dangerous it can be.
The fact is, banksmen play an incredibly important role in preventing accidents caused by reversing large goods vehicles. So much so that training is required by the Health and Safety Executive - HSG136 to ensure that fleets of HGV / LGV drivers comply legally and reduce the risk of accidents. The H & S statistics show that almost one in four deaths are caused by vehicles at work during reversing manoeuvres.
There is technology available to help drivers reverse safely and carry out safe manoeuvres, such as reversing alarms, standard mirrors, and lights as well as additional mirrors that can be fitted to the vehicles. Detailed safety procedures suggest having designated pedestrian and vehicle areas. However, it is still vital for LGV operators to have properly trained reversing banksmen as added security.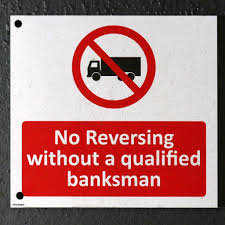 The role of a reversing banksman
The main responsibility for a banksman is to assist LGV drivers to safely manoeuvre and reverse their HGV's around a confined site or on public roads.
One of the most important skills a banksman must have is effective communication skills. The banksman must give clear instructions to nearby pedestrians, other site workers and especially the HGV driver. A system of agreed hand signals is most commonly used, although in-cab technology such as hands-free radios may also be used.
It is crucial for the banksman and the lorry driver to have a good level of understanding and trust with each other to ensure that they work safely and efficiently. The banksman should also be able to remain calm and focused in a busy goods-in environment. The best way to ensure banksmen have these skills and good practical techniques is effective and adequate training from an accredited LGV driving school.
Banksman Training
As well as good communication skills, Banksmen need to have excellent hazard perception and alertness to ensure that they, the banksmen and others in and around the area are kept safe, especially where heavy goods vehicles and large goods vehicles are reversing.
Wallace School of Transport is accredited to deliver RTITB Approved Reversing Banksman Training Courses that include training in correct and effective Communications, Reversing Techniques, Banksman Signals, Understanding Driver's Field of View, Addressing Potential Hazards and other important safety related topics.
Our HGV / LGV training is delivered either at your company premises or at one of our Wallace School of Transport Training Centres across London.
If you would like more information about our Reversing Banksman training or any of the other RTITB accredited courses that we offer as part of our HGV / LGV driver transport training, please contact Wallace School of Transport.