Get your licence quickly - 4 Easy Steps
If you need more help, simply call us during office hours - 020 8453 3440

QUICK START PACKAGE - Medical, PROVISIONAL HGV/LGV and Multiple Choice & Hazard Perception Theory Test STUDY MATERIAL. For price and details, click here to read more...

DVSA Theory Tests. For prices and details, click here to read more...

Pass your theory tests and we'll arrange your Driving Course and Test. See our choice of courses. For prices and details, click here to read more...

Driver CPC is needed for paid HGV/LGV driving work. We help you get a Driver CPC Driver Qualification Card. For prices and details, click here to read more...
Training is available across London and around M25, including:
Acton, Battersea, Dartford, Croydon, Dunstable/Luton, Enfield, Harlow (Brentwood), Heathrow, High Wycombe, Guildford, Park Royal, Slough, Watford and Wembley

Our easy to drive DAF vehicles are specially selected:
-Truck of the Year Award Winning LF55
-Well positioned, easy to use controls
-Smooth riding, low noise & pollution levels, good visibility
-8.25m long for easy manoeuvrability
-Exhaust brake, anti-lock brakes
-Electrically adjustable heated mirrors, air suspended cloth seats, electric windows and air conditioning
-Reversing camera to make it easy to reverse
Learn quickly and easily - Pass FIRST TIME!
Modern AUTOMATIC GEAR BOX Training Vehicles.
If you have a manual gearbox car licence, taking training and PASS WITH OUR AUTOMATIC VEHICLES, GIVES YOU A LICENCE TO DRIVE MANUAL AND AUTOMATIC LORRIES Read more...
1 to 1 Training - just you &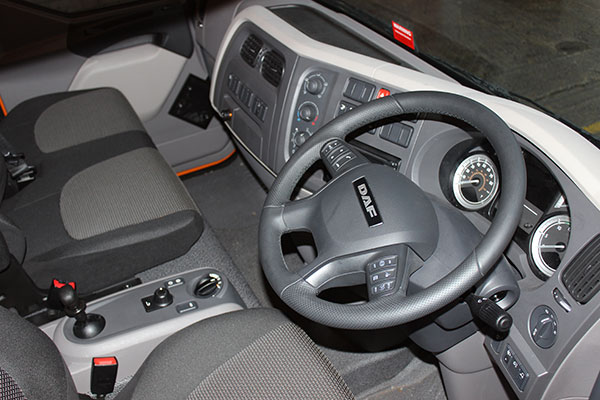 your instructor in the training vehicle at 15 Wallace Training Locations
Want to upgrade to C+E/Class 1 to drive trucks with trailers?
Arrange later or take now with Back-to-Back training while the test pattern of training and test standard is still fresh in your mind.
For drawbar and articulated training, click on our Class 1 / C+E blue TAB, see above.
What is the difference between HGV and LGV?
HGV means Heavy Goods Vehicle and LGV means Large Goods Vehicle. It's the same licence just a different name.
LGV C+E = HGV Class 1 - up to 44 tonnes
LGV C = HGV Class 2 - up to 32 tonnes
LGV C1 = over 3.5 up to 7.5 tonne (C1+E with trailer)
No need to pass LGV C1 first, go straight to LGV C.
If you passed after January 1997, and you're over 18, you don't have to take the smallest licence LGV C1 first. Go straight to LGV C (HGV Class 2) and take Back-to-Back Training after passing C take LGV C+E /HGV Class 1.
Can I use an Automatic Truck?
Wallace NEW HGV/LGV Automatic Training Vehicles are available at 15 training locations across London & around M25. Find out why autos are so much easier here. From April 2014 the law changed so manual car drivers who pass using an automatic gear box truck get full Manual HGV/LGV Licence.
We also have Manual Transmission Vehicles, available at selected locations.
Will passing on Auto affect my job prospects?
Many operators only use Automatic Vehicles on their fleet, as they are more fuel efficient.
However, so you can get the feel of a manual rigid lorry, we provide a FREE 1 hour Taster Session, which you can boost to a longer Driver Development Lesson if prefered, after passing on our Auto, see Step 3 for details.