HIAB Lorry Loader Crane Training
ALLMI Accredited Training and Certificate
Hiab Cargo Tech is a manufacturer of truck mounted cranes, others include Atlas, Palfinger and Fassi.
Learn to operate any make of lorry loader crane.


Park Royal (Near Wembley) Wallace Training Centre
Wallace Lorry Loader Vehicle has:
Remote controls
3 stage boom (arm) with Powered Rotator at end of boom
20 ton metre capacity - great experience for builders merchant work
With available attachments:
Brick Clamp
Hook
Bucket, clam-shell grab (for muck-away tipper type jobs)
See prices below
Training is usually on Thursday, Friday and/or Saturday. Arranged either One-to-One or Shared (1 Instructor with 2,3 or 4 Trainees)
The number of training days required depend on Operators existing or previous experience with Lorry Loaders.
Slinger / Signaller / Banksman
A stand alone qualification for use in Distribution Centers, Delivery Yards and other Logistics environments as well as for being a Lorry Loader Assistant or a Drivers Mate, or when using other types of lifting equipment.
Novice Operator – 2 day
Experienced Operator Refresher/ Recertification - 1 day
Wallace Hiab training provides a limited amount of basic information about Slinger / Signaller so we strongly recommend obtaining full and comprehensive Slinger / Signaller training, certificate & registration.
Qualify for Slinger/Signaller discounts when booking at the same time as Hiab training, and arrange back to back or separately, later to your Hiab training.
Please call 020 8453 3440 for further advice

Successful Hiab Operators
ALLMI Certificate and photocard recognised across the UK.
ALLMI also issue CSCS Site Safety Qualifications to successful operators.
Ideal for working at Builders Merchants or in Construction.
Option to add extra Attachments to your existing ALLMI Certificate with a 1 day Conversion Course

It is best to renew your existing qualification and add extra attachments/qualifications at the same time to avoid your new attachment expiring at the same date as your existing ALLMI Certificate.
Re-Certificating existing qualifications at the same time as adding extra attachments means your new ALLMI Certificate will show your existing and your new attachments/ qualifications, and all will be valid for the full 5 years.
On-Site Training at Client Premises to suit your availability
Up to 4 operators may attend training each day. They should have very similar or the same lorry loader experience.
Lorry Loader (1 to 3 days) and/or additional Slinger/Signaller (1 or 2 days) depends on operators experience, existing qualifications and attachments required.
For a smaller course, an employer (current or previous) must write confirming operators have at least 15 hours experience within the last 12 months.
Call 0208 453 3440 for an On-Site Equipment Check List.


How do I start?
Click on ENQUIRE next to the course you want or Call 020 8453 3440
Successful Operators receive Certificate, Photo Card & Registration
Tell us which of the following attachments you want when booking.
Brick Clamp, Hook, and Clam Shell/Bucket (also known as Grab)
Choose to arrange one or two or all three attachments.

Click here to see Hiab - Lorry Loader Frequently Asked Questions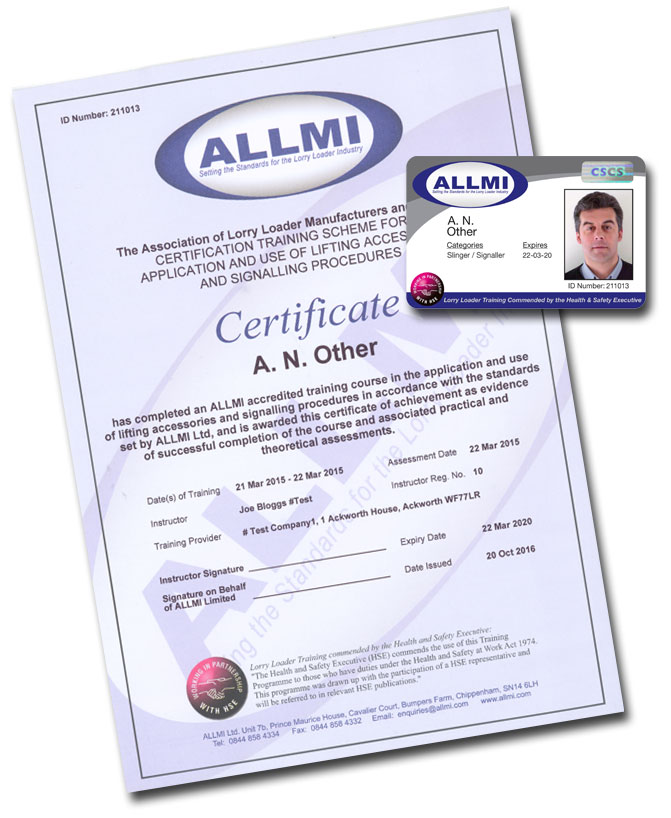 Prices include VAT
Training is available across London and around the M25. Current HGV/LGV venues:
Battersea, Bedford, Croydon, Dartford, Enfield, Harlow (Brentwood), Heathrow, High Wycombe, Guildford, London / Park Royal, Luton, Oxford, Reading, Slough, Watford and Wembley