7 Things to Consider When Choosing your HGV Driving Training School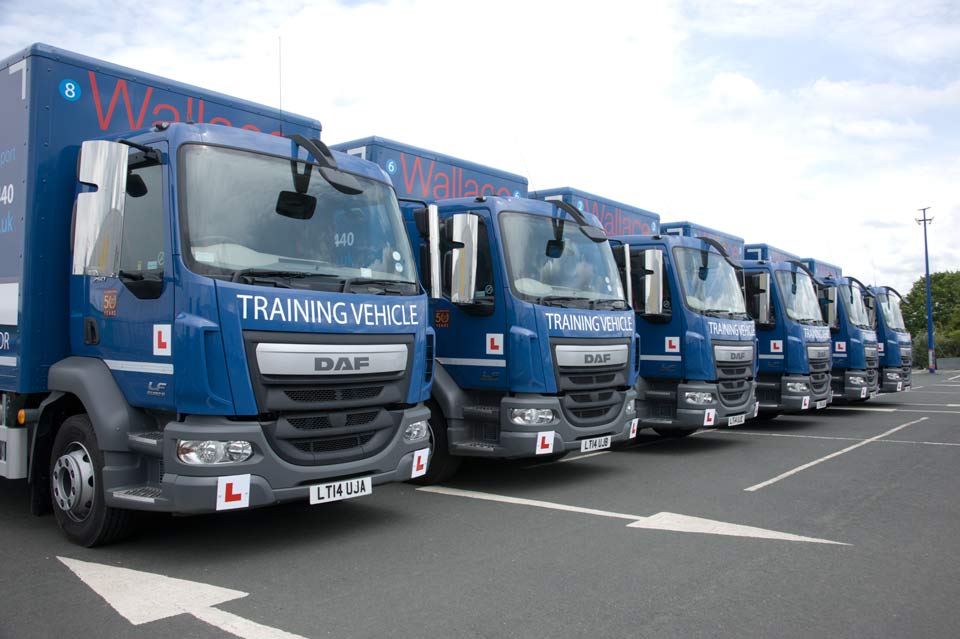 6th August 2021
If you're considering a career in truck driving, you are in for a treat. There are plenty of benefits to the profession, including high pay, a flexible lifestyle, and job security. Plus, with Britain facing an acute shortage of skilled Heavy Goods Vehicle (HGV) drivers at present, you are more likely to find employment quickly.
As you would expect, it's a good idea to enrol in an acclaimed HGV driving school to kick off your new career. But deciding on an appropriate institute when they all differ in costs, programs, and service levels may seem daunting.
Instead of choosing the first truck driving institute that shows up on your search list, see how your prospective HGV driver training school fares on these seven important checks.
#1. Accreditation and Qualified Instructors
Hauliers often prefer to recruit drivers who gained their LGV Driving Licence from an accredited, professional HGV driving school. As a result, you should first look into the truck driving school's credentials.
An accredited HGV driver training institution will:
Provide a structured and clear curriculum
Devote enough attention to theoretical and practical training
Educate you on vital driving techniques not just to pass but to help you in your future employment
Have a fleet of fully insured and maintained, well-kept vehicles
Accredited Driver Training companies also supply trained instructors to offer quality driver education. This is especially significant when it comes to truck driving. A competent instructor will help you develop good driving habits and safe driving practices, making it easier for you meet the employers' job requirements.
#2. The Ratio of Instructors to Students
Learning to drive an HGV should not be a group activity. If you have one instructor who can't cater to several students in the cab at one time. You need individual attention.
Moreover, each aspect of HGV driving is important. You have to get learn the basics and achieve reasonable proficiency before progressing through the companies that the DVSA driving examiner and the employer is looking for you to deliver. For this, you will need your HGV driver training tailored to meet your specific needs on a one to one basis.
#3. Reputation
Be sure to do your homework on the HGV driving school's reputation. Seek answers to questions, such as:
How long has the school been around?
What is its pass rate?
Does it have a website that lists its services and Prices in detail?
What do previous clients have to say about its training programs, its instructors, and the way the training company has organised bookings?
Here are a couple of things you can do to run a background check on your prospective truck driving school:
Ask around. Take suggestions/feedback from drivers you may meet making deliveries, and from friends or family members who have recently enrolled in the HGV driver training school.
Ask local employers who, if they were sponsoring a driver or have done it in the past, who they'd recommend.
Read reviews online. And, not just the glowing ones published on their website. Head on to a neutral review platform, maybe a drivers forum, to see what people really have to say about the school.
#4. Vehicles and Training Facilities
It is no secret that to obtain your HGV licence, you will have to spend a significant amount of time learning to drive an actual truck. So, it may be worth your while to visit the truck driving school and see the actual training vehicles they use.
Check the trucks have easy-to-use controls. Accredited LGV Training Schools will provide vehicles that have good visibility, and have low noise/pollution levels. More importantly, the vehicles should be safe and aligned with industry standards as well as meeting the DVSA compliance requirements for Minimum Test Vehicles.
An HGV driving school's training facilities are as important as its vehicles. Unless they are an approved training centre, you won't have access to a proper reversing area laid out just the same as at the DVSA test centre and may have to practice in any old car park, or worse, on the open road with no correct line-markings. Needless to say, these locations are not ideal for you to master the art of reverse manoeuvring which your DVSA driving examiner will be testing you on.
This is why you should see if the prospective HGV driver training school has an appropriately sized training facility that satisfies testing requirements.
#5. Comprehensive Lessons
Truck driving is a highly detailed subject with several critical nuances. You need to ensure that the potential truck driving school covers all the important fundamentals of operating an HGV.
In case the curriculum is listed on their website, look through it to get a general idea of what they teach. Check if the topics lay enough stress on safety guidelines.
Also, you can ask the authorities why they have included certain modules in the curriculum and how they apply to practical situations.
#6. Job Placement Opportunities
At the end of the day, you are going through all this trouble to land a lucrative job. A reputable HGV driving school (especially one that has been around for a while) is sure to receive multiple placement offerings from companies looking to employ Heavy Goods Drivers, as the school will have a good reputation for supplying well qualified, fully trained drivers.
Moreover, usually established schools will have important industry connections.
#7. Pricing
Should you opt for the cheapest HGV driver training school you can find? The answer is, no. Schools that offer unbelievably low pricing models may be understaffed or using outdated vehicles and short-timing you on your training. And in a few instances, they can surprise you with hidden costs once they rope you in.
That said, you shouldn't burn a hole through your pocket to enrol in an expensive HGV driving school either, because you may find in this instance you're not going directly to the school but instead are paying a Broker or Agent a premium fee as they have inflated the cost of training to cover their time and Sales people's commission.
Essentially, the institute's prices should correspond to the depth of training they provide. So, in case you notice that a costly course is not as expansive as it should be, consider it a red flag.
Furthermore, it is probably in your best interest to opt for a truck driving school that offers course-by-course as well as packaged programs. This way, you'll have the freedom to determine which pricing model suits you the best.
Conclusion
Choosing a driving school is easier said than done. However, it's not impossible. With a little research, you will be able to find the one that helps you embark on your trucking journey with ease.
This is exactly what we aim to do at Wallace School of Transport. Our courses and training sessions are designed to help you ace your truck driving test the first time. We constantly leverage our extensive experience and knowledge to guide you in the right direction. Feel free to give us a call and we'll be happy to get you started on the licensing process!