How To Become An HGV Driver?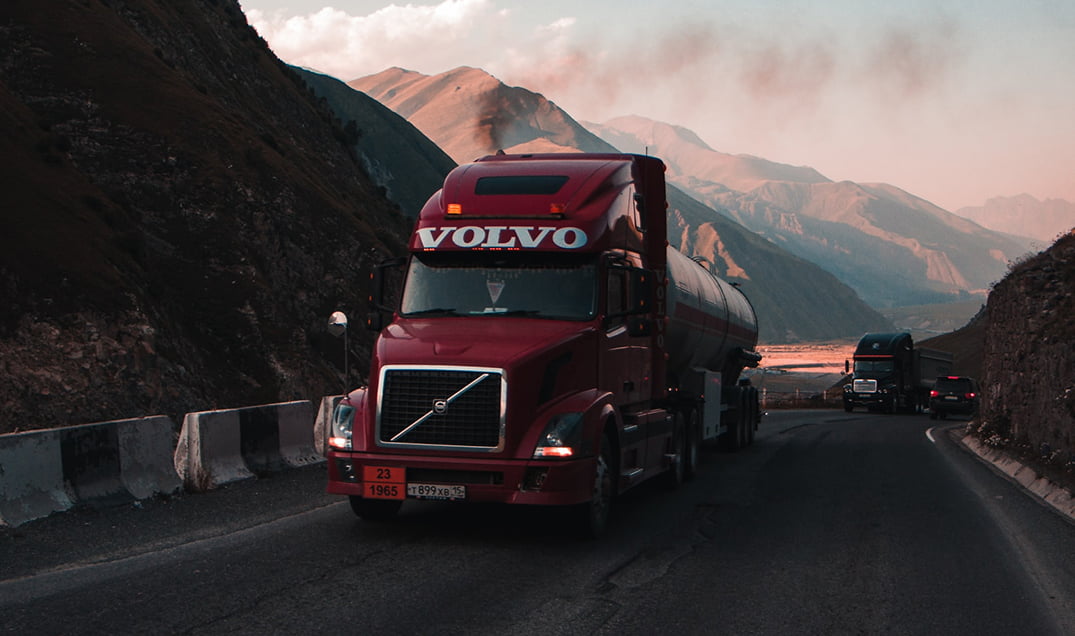 5th July 2021
Heavy Goods Vehicle (HGV) drivers are usually employed by haulage companies that move goods, such as food, raw material, coal, and even livestock. They usually move to and from factories, warehouses, and distribution centres or ports.
After completing HGV driver training, drivers are licenced to drive heavy vehicles that wegh over 7.5 tonnes, and can include lorries which are tankers, tippers, skips and trailers.
Becoming an HGV driver is easier said than done - it requires responsibility and a high level of commitment. Drivers also need to have a special entitlement called an LGV licence that authorises them to drive heavy vehicles.
In this post, we will shed light on HGV and LGV meanings and how to become a successful HGV driver.
#1. What It Takes To Be An HGV Driver
Having certain characteristics and abilities can be advantageous for someone looking to make HGV driving their profession. HGV driver jobs require:
Being patient and driving calmly at any hour of the day or night
Being able to focus for long hours
Communicating articulately and politely when delivering goods
Knowing the rules and paperwork involved and completing everything satisfactorily at the end of the day
Following safety guidelines and rules when on the road and when loading and unloading goods
Resolving unexpected problems when on the move
Working independently
#2. Duties of An HGV Driver
Planning routes and delivery schedules with transport managers or supervisors
Supervising or providing help with safely loading and unloading goods
Ensuring loads are secured properly
Staying up-to-date with the traffic reports and possibly considering a change of route, if necessary
Completing delivery-related paperwork
Tachograph logs and recording hours of work, rest, etc.
Performing pre-start daily vehicle checks - tyres, windscreen, mirrors, lights, brakes, fuel, oil, and Adblue checks.
#3. HGV Driver Pay Rates
The average salary of an HGV driver is reflected by their industry and driving experience. But broadly speaking,
A newly-qualified HGV driver's salary at entry level may range between £18,000 and £23,000
HGV drivers with a few years' experience make anywhere between £23,000 and £29,000
Highly-qualified and experienced drivers can earn up to £40,000
#4. Working Hours of HGV Drivers
HGV drivers' work is regulated by the Working Time Directive as well as the Tachograph Rules to ensure that you don't get overworked and can drive safely throughout the day or night in all weather conditions.
You can work for nine hours a day (per day). Having said that, you may drive 10 hours a day twice in a week. Overall, you can work 56 hours in a week, or 90 hours in a fortnight.
You will also need to follow regulations for resting/taking breaks to ensure your physical and mental wellbeing. So take at least 45 minutes of rest for every four-and-a-half hours of driving and be sure to get 45 hours of rest in a week. Overnight stays may also be necessary in some HGV driver jobs.
#5. What Is Needed to Apply For HGV Driver Jobs?
It is important to know that before applying for HGV driver jobs, you to have the relevant driving entitlement and will be required to fulfill certain conditions starting with:
Being over 18 years of age
Having a full car driving licence
From there, you may apply for your provisional HGV driving licence, and work towards completing your Driver CPC to get a Driver CPC Qualification Card.
#6. Applying For HGV Licence
The licence needed to drive an HGV depends on the type of vehicle you want to drive. The fact of the matter is, drivers need different types of licences for different vehicles due to variations in size and weight.
To apply for a licence, you will need forms D2 and D4. You can easily order them online from DVLA. Out of these, the D4 form will need to be filled by a doctor, who can be either:
A general practitioner. The section on your eyesight will need to be filled by an optician though.
OR
A private practise that specialises in drivers' medical examination
Once both the forms are duly filled, you may send them along with your photocard driving licence to DVLA.
If you're wondering how to get an HGV licence for free, we have good news! You won't incur any HGV licence cost as you will not be charged any application fee by the DVLA.
You can receive your provisional HGV driver's licence within around three weeks of DVLA getting your application. However, if your health or personal details need verifying, it may take more time.
#7. Understanding Driver CPC
As mentioned, to become eligible for HGV driver jobs in the UK, you will need to have a Driver Certificate of Professional Competence (Driver CPC) qualification.
Let's find out what Driver CPC means and entails.
It is a necessary qualification for professional HGV, lorry, bus, and coach drivers. Of course, there are a few exceptions to the requirement of this qualification. But generally speaking, it aims to enhance road safety and maintain competent driving standards.
When starting from a car licence you will need to complete four test modules to be able to earn the complete Driver CPC qualification and obtain the LGV driving licence.
Module 1: Theory Test
The first module consists of a theory test, which comprises two parts:
Part 1a is Multiple Choice test: Contains 100 questions and lasts for an hour and 55 minutes. You need an 85% percent to clear this test.
Part 1b is Hazard Perception test: Comprises 19 video clips with a total of 20 hazards you can score on with a maximum of 5 marks for each hazard. A 67% score is necessary to pass this test.
The order in which you complete 1a or 1b tests is inconsequential, but you are required to take both these tests and pass them within two years of taking one. As long as you can do this, you can get your Module 1 theory test certificate.
Module 2: Case Studies Test
You may apply for Module 2 of the Driver CPC, even if you haven't passed Module 1 yet. Or you may decide to sit for Module 2 CPC after completing your Module 3 driving lessons and LGV Driving Test.
The case studies test consists of seven case studies that will have to be resolved on a computer. It is developed by industry doyens, and uses realistic on-the-road scenarios to gauge an HGV driver's aptitude and ability. The case studies present short hypothetical situations that typically occur in HGV driver jobs.
The test lasts for an hour and 55 minutes. Within this timeframe, you will be required to answer six-to-eight multiple choice questions on all seven case studies. The minimum passing mark is 80%.
You will get your results at the test centre in the form of a letter. If you pass, the letter will mention your test pass reference number. You will need this at the time of applying for Driver CPC Module 4.
Remember that your letter is valid for two years. You need to complete and pass the Driver CPC module 4 within these two years. If you don't do this, you will have to undertake and pass module 2 again.
Module 3: Driving Ability
This is your next step towards becoming eligible for HGV driver jobs. However, you should have passed your Module 1 theory test to be able to undertake Driver CPC module 3. As the name suggests, the driving ability test is a practical test, which lasts one and a half hours. It comprises three aspects:
#1. Vehicle Safety Questions
You will be asked a number of vehicle safety questions in this part of the module. It is important that you know exactly how to answer them.
Some examples of the many questions asked are mentioned ahead.
How will you replace your vehicle's tachograph disc?
How will you operate your vehicle's loading mechanism?
How will you verify that the wheel nuts on your vehicle are secure?
How will you check the condition of your vehicle's windscreen wipers?
How will you verify that all doors, including cargo doors, in your vehicle are secure?
How will you examine the condition of your vehicle's reflectors?
How will you examine the condition of your vehicle's mudguards?
How will you check the condition of your vehicle's suspension?
What instrument checks will you make before and after starting your vehicle's engine?
What are the main safety factors involved in loading your vehicle?
To be able to answer these kinds of questions properly, it is highly recommended that you gain a thorough knowledge of the various parts of an HGV and how they operate.
#2. Practical Road Driving
Remember your DVSA driving examiner is checking your driving skills to assess in you are ready to take on HGV driver jobs. During your practical road driving test, the examiner will observe and note how you do the following:
Use the various vehicle controls
Drive at an angle, uphill, and downhill
Show alertness and sound anticipation of other road users' intentions
Control your vehicle's speed
Mitigate hazards
Use the vehicle's mirrors
Do a controlled stop
Choose a safe place to stop
Provide timely and appropriate signals
You will also undertake an independent drive for 10 minutes. During this time, the examiner will gauge your ability to drive safely while making autonomous decisions.
#3. Off-Road Exercises
You will be asked to perform the following off-road exercises:
An 'S' shaped reverse into a bay
Execute uncoupling and recoupling procedures, if you're taking a test with a trailer
After the successful completion of the entire module 3, your examiner will reveal your result along with an evaluation of your performance on the tests. You will pass the tests if you have 15 or fewer minor driving faults, and no dangerous or serious driving faults.
Module 4: Demonstration Test
Module 4 involves an interactive demonstration test where you will be required to showcase and explain several vehicular operations that an HGV driver should be aware of. These operations may be related to aspects other than driving the vehicle.
You will be tested on your ability to:
Ability to load the vehicle with due regard for safety rules and proper vehicle use
Security of your vehicle and its contents
Ability to prevent criminality and trafficking in illegal immigrants
Ability to assess emergency situations
Ability to prevent physical risk
Conclusion
As you can see, becoming an HGV driver takes effort and dedication. The ability to work independently and knowing how to look after yourself and your vehicle will take you far in this profession. Hopefully, the information provided above will help you thoroughly understand the various considerations and requirements of making a career as an HGV driver, holding an LGV driving licence and taking up HGV driving jobs.
Image Credit: Unsplash/Jairph