HGV Class 1 / LGV C+E training & test
Get a licence to drive up to 44 tonnes
Articulated Training Vehicle
Our brand new DAF CF automatic articulated truck is based at our SLOUGH training centre - See the features of the truck at the bottom of the page
Get HGV Class 1 / LGV CE after you've passed LGV C (HGV Class 2)
No more theory tests.
- 1 to 1 training just you, your instructor and training vehicle
- 4 hours training per day
- Choice of courses
- On day of test, 2 hours warm-up session and Wallace vehicle for local test
- Available from 6am and throughout the day. Evening & weekends by arrangement
- Our DVSA Booking Facility means your driving test follows straight after training.
If you'd like to get your

FREE HANDY C+E GUIDE, click:
REMEMBER MENTION 'HANDY C+E GUIDE' in your message so we can email you the FREE guide.
ARTICULATED TRAINING COURSES and FEES
5 day Course - 4 days training and test on 5th day
For very experienced 'C' holders, 2 years+ various driving with 18t/larger trucks
Normal Price: £1183.34+VAT plus DVSA test fee (weekday) £115 = Total £1535
6 day Course - 5 days training and test on 6th day
For drivers with approx 2 years 'C' experience in a less challenging driving role
Normal Price: £1416.67+VAT plus DVSA test fee (weekday) £115 = Total £1815
7 day Course - 6 days training and test on 7th day
Ideal for newly qualified, lapsed or limited driving experience 'C' drivers
Normal Price £1650.00+VAT plus DVSA test fee (weekday) £115 = Total £2095
CALL 020 8453 3440 for NEXT AVAILABLE DATES
We ask for £300 deposit to start to make booking arrangements, the balance of fees are due before your course starts. We also offer a finance package through Deko. Ask for details.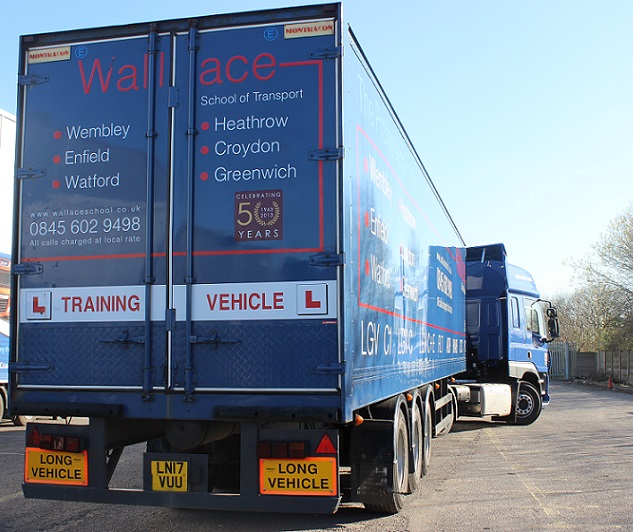 Wallace driver training includes reversing practice and tips to not only help you pass your test, but also to gain valuable knowledge and skills helping you prepare for Class 1 job interview assessments.
Articulated Single Day Lessons
Single Day - 4 hours £280 (inc VAT) Articulated Vehicle Training
Pass Protection
If required, to re-sit a driving test on an articulated vehicle - No need to buy in advance or pay upfront.
2 hours Warm-Up Lesson and use of vehicle for test £300 (inc VAT) plus £115 for weekday DVSA test.
Got a C+E licence but need Refresher Practise?
Inexperienced driver?
Maybe you passed your lorry test some time ago?
Possibly outside the UK and you want to get familiarised with local roads?
Need to brush up your skills before an interview assessment drive?
We offer 4 hour sessions to improve or refresh driving skills - £300 inc VAT
Just you and the instructor to gain confidence and experience handling a big rig. Arrange one or more 4 hour sessions. When meeting our instructor at our Slough centre you can practice reversing just like at the DVSA test centre.
After the session, remember to ask our office, if you'd like a Proof of Refresher Training Certificate - a letter to show at interview/assessment test drive to prospective employers.
AUTO - DRAWBAR TRAINING COURSES & FEES
Alternatively to Articulated vehicle training, Wallace also has Drawbar Automatic Gearbox Vehicles. 1 to 1 Training - just you and your instructor in the vehicle - 4 hours each day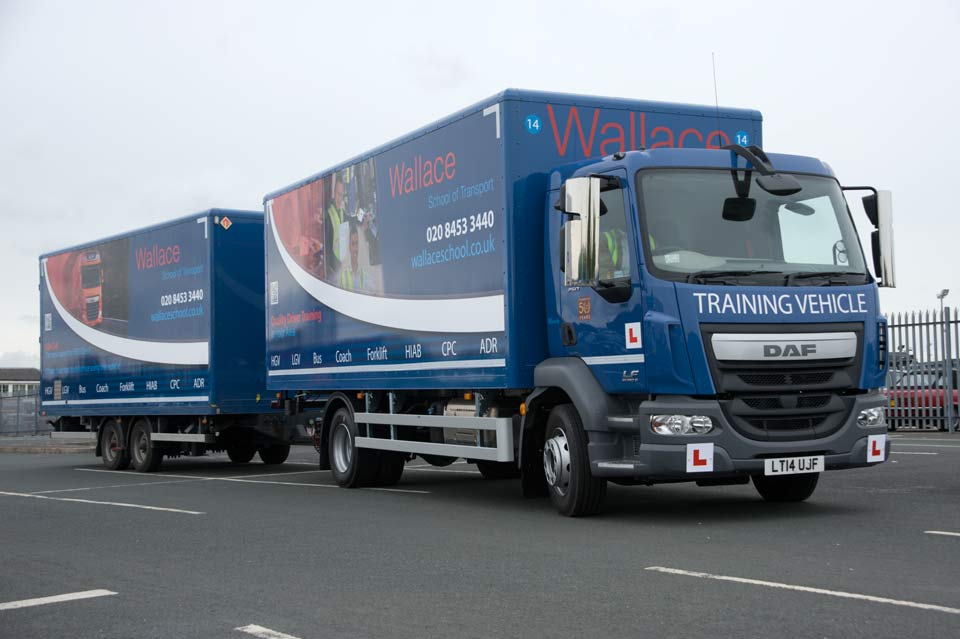 4 day Auto LGV Course - 3 days training and test on 4th day Ideal for experienced 'C' holders or recently passed 'C' drivers who've retained the test pattern of driving
4 day £857.50 +VAT plus DVSA test fee (weekday) £115 = Total £1144.00
5 day Auto LGV Course - 4 days training and test on 5th day Ideal for inexperienced LGV C drivers or those who passed 'C' a while ago.
5 day £1067.50+VAT plus DVSA test fee (weekday) £115 = Total £1396.00
After passing your Wallace Auto Drawbar Course and Wallace Driver CPC , take a few hours Development Practice, and

Drawbar Customers get FREE Articulated Vehicle familiarisation training

FREE 1 hour Taster Session for Wallace C+E drawbar course customers - why not BOOST YOUR FREE 1 HOUR SESSION and GET 4 HOURS FOR ONLY £210 inc VAT
It's cheaper to get C+E by drawbar - Pass your test without worrying about driving a complicated articulated vehicle to test standard, and then have a practice session using the Articulated vehicle.

Your examiner will allow you to use either a drawbar or an articulated vehicle to get your LGV CE / HGV Class 1 licence.

Wallace Drawbars are available at all our training locations Croydon, Dartford, Enfield, Guildford, Harlow, Heathrow, Luton, Park Royal, Slough, Watford and Wembley Our Manual Drawbar is in Slough.

Click here for drawbar training information Click to see why Auto's are easier

Phone 0208 453 3440 for course and price information

And don't forget your Driver CPC - Driver Qualification Card (DQC)