Want to improve your Pay & Job Prospects as a Delivery Driver?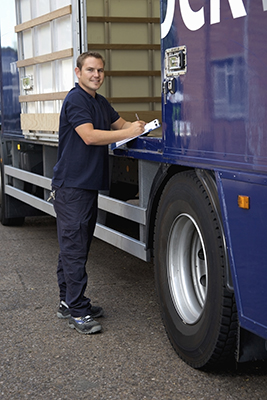 2nd January 2019
With online stores literally at our fingertips thanks to smart devices, shoppers have adopted a 'click and buy' way of living and can get almost anything with a simple tap of our phones, with some items 'demanded' in just a few hours.
What makes for good Customer Service for Retailers, puts added pressure on delivery companies and drivers to fulfil those orders. Many companies are recruiting drivers, right now, to meet this demand.
Delivery drivers contend with:
Urban & City Driving: Unfamiliar roads and industrial estates, city centres or built-up, congested areas means drivers need to contend with cyclists, parked and moving cars, vans and heavy vehicles as well as pedestrians. Therefore you'll need route planning and support, provided by your employer, to help you to prepare for difficult delivery routes and stay safe, be alert and problem solve whilst on the roads (without relying on a sat-nav!)
Vehicle Limitations: The type of vehicle you could be asked to drive may change from shift to shift so you need to know the limitations of the vehicle you are to be using. Employers usually take this into consideration and provide vehicle awareness training on a vehicle that a driver may be 'new' to and this helps greatly to relieve the stress of the driver (and transport managers).
Heavy Loads: If online retail allows us to purchase almost anything, employers who are asking drivers to deliver large items such as beds and sofas (which may need manoeuvring up staircases and through small spaces) must provide some training in Manual Handling. Sometimes this is delivered as part of Periodic Driver CPC programme, but if go on-line yourself, there's a wealth of information to help you, not just when making deliveries, but in your normal day to day activity.
Time Keeping: Roadworks and traffic accidents can cause unavoidable delays which can result in tired drivers and disgruntled customers. If your company has a Traffic Office they may be able to provide you with 'live' re-routing and endeavour help you avoid the problem roads.
Customer Service: We all know delivery drivers represent their company therefore it's vital that you remain calm and professional at all times. Your companies customers may range from shopkeepers, warehouse managers to householders, so it's important that your interpersonal skills and customer service is excellent. After a thorough briefing and training on varying needs of your different customers you'll have the communication skills to re-enforce the positive image that modern, progressive logistic companies want to present.
If you can demonstrate all the above skills then you will be in great demand – whether it's a food distribution company, a clothing and household goods retailer or a goods & industrial supplier, drivers can 'cherry-pick' their way through the jobs, hours, pay and benefits that each different company offers and at the same time, safe in the knowledge that a career in logistics is secure.