Wallace RTITB Approved and Accredited Training
Anyone aged 17 or more with good co-ordination and the skills required to drive a car (although you don't have to have a car licence) will have no difficult gaining a forklift qualification.
Counterbalance Forklifts -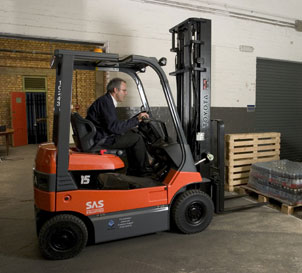 For loading & unloading vehicles, moving goods in yards and in warehouses
Reach Forklifts - Used in confined areas and narrow isles in warehouses.
Choice of Courses
1 day Re-Fresher / Re-Certification - for anyone who had formal training, with lots of current forklift operating experience needing to re-new an existing certificate.

2 day and 3 day Courses - suitable for someone with experience but no formal training.

4 and 5 day Courses - for someone with not much experience or who has never used a forklift.


To arrange training we ask for payment, either over the phone with a Credit or Debit card, or by BACS, or if you prefer to visit us to pay by card or cash, our office is open Monday to Friday 10am to 5pm. Please give us as much notice for bookings as possible.
Not sure about which course you need? Just give us a call - 020 8453 3440
Talk to our knowledgeable staff who can offer FREE advice. You'll be under no obligation to make a booking.
Or, come along for a FREE practical assessment so our instructor can see your forklift operating skills and recommend the right course for you.
If you are worried about literacy or language comprehension (or you have doubts about your fitness to operate machinery) let us know at time of booking or when on assessment - we'll do all we can to help.
Company sponsored operators certificates will bear the name of the company unless we are advised otherwise.
Wallace Fully Equipped Warehouse & Forklift Training Centre
Our facilities include racking, stillages and pallets, diverse loads including 1 tonne loads and unevenly distributed loads with an approved test course including chicane exercises, turning and reversing in narrow isles, practical operation and consists of lifting loads to intermediate and high levels.
And our comfortable classroom is fully equipped for video presentations and Heath & Safety training to learn essential knowledge for safe working in a warehouse or factory environment.
At the end of training operators complete practical checks and a simple written assessment to ensure confirmation of learning. Successful operators receive a RTITB certificate and optional photocard.
Wallace training is accredited and approved
Your 'official' RTITB certificate from us will state your Registration Number. This means you, and your employer, can check your training is proper and correct, and that you are fully qualified!
**** WITH WALLACE YOU CAN BE SURE YOU ARE BOOKING ACCREDITED TRAINING and YOU WILL RECEIVE RECOGNISED & CHECKABLE QUALIFICATIONS ****
The government's Health & Safety Executive Accrediting Bodies Association (ABA) has implemented a mandatory database for all Mechanical Handling Equipment & Workplace Operators. For RTITB this is called NORS.
Each operator is allocated a unique ID number that remains with the operator for life (i.e. when the operator adds additional qualifications these also get recorded against the operators registration number).
Certification for operators trained through accredited training providers, like WALLACE, can be found and traced through these HSE approved databases.
Our London Training Centre is easy to find
Click here for map to find us at Park Royal (near Wembley) NW10 7AR, close to Central Middx Hospital/Park Royal Asda. We have free local parking & close to Harlesden Tube Station and are easy to reach by bus, train and tube.
Harlesden Station (Bakerloo Line & Overground) is our nearest station approx 10 minutes walk, and
Park Royal Station (Picadilly Line) or
North Acton Station (Central Line) approx 20 minutes walk.
(and many buses, which come to Central Middx Hospital, which is very close to us too!)
Training is available Monday to Saturday (and Sunday's by arrangement) and is conducted on either 2 to 1 or 3 to 1 basis - depending on our bookings during the week you attend.
Please take a moment to check our Frequently Asked Questions for futher forklift information
Call for help or more details - 020 8453 3440