RTITB Driver Training Standards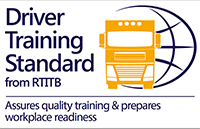 Wallace School of Transport is proud to work with RTITB delivering high quality instruction through the LGV Driving Training Standard.
If you decide to take up this additional qualification when taking your HGV / LGV training course:
- We provide proof of delivery of more than the basics.
- We'll not only help drivers pass their test but to also the associated knowledge that helps drivers as they launch into their driving career in logistics.
DTS is the only Quality Mark that is industry specific
Clients are assured of quality instruction, by qualified and monitored instructors who have a proven track record of success in delivering approved, standardised subjects that not only teach drivers to pass their tests, but also includes additional vocational knowledge such as the practical delivery and effective completion of Daily Vehicle Check Reports and Tachographs.
Wallace is happy to conform to RTITB's rigorous inspections
Training organisations are not required to hold an operator's licence. However, being awarded DTS accreditation proves that Wallace meets the same criteria, where applicable, as having a O Licence or running an Operating Centre, which is an important consideration to a client's purchasing decision.
Wallace customers benefit from:
- independent verification of our facilities such as dedicated reversing practice areas laid out the DVSA specifications
- full vehicle & maintenance document inspections
- verifiable trail of training records and report documents including driving test result analysis
- training standards designed to maintain high levels of trainee driver competency and success rates.
By placing your training requirements with Wallace School of Transport, you can relax in the knowledge that with good organisation, quality management and high standards of training delivery, the results of your commitment will be more than satisfactory.
Call for more details, ask for Russell, 020 8453 3440
Click here to return to the LGV / HGV driving course page & prices